The College of Wooster Tree Ring Lab is a group of faculty, staff, and undergraduate student researchers, founded by Dr. Greg Wiles in 1998 in the College's Earth Sciences department, who study tree rings and their relationship to archaeology, climate, and geology. Whether the projects are for sophomore or summer research, or for students' senior Independent Study theses, the Tree Ring Lab utilizes dendrochronology to date historical structures in Ohio (dendroarchaeology) and reconstruct paleoclimate (dendroclimatology). Our goal is to assemble long tree-ring chronologies from oaks by sampling both living trees and old wood. Read our brochure for more information regarding this process!
Research has been conducted by the Tree Ring Lab in Alaska, Ohio, and Russia, and has been featured at many annual meetings of the Geological Society of America and in various other publications.
---
Navigation
---
Facilities
What was once a small office in the basement of Scovel Hall became headquarters for our lab work and storage. The lab quickly out grew the original space allocated and so the Tree Ring Lab annex was founded. What was once an X-Ray lab has become a pivotal post for student workers and seniors completing their Independent Study requirements. The Tree Ring Lab also has a well-stocked preparation room which houses all saw and sanding equipment. The Tree Ring Lab's newest facility is the Fern Valley Field Station. The land for the field station was donated to The College of Wooster by Betty ('64) and Dave Wilkin (retired French professor) in 2011. Multiple departments, including Earth Sciences and Biology, share the site. In 2014, Dr. Wiles and the Tree Ring Lab conducted studies on erosion in Wilkin Run (unofficial stream name) and mass movements along the valley walls at the site.
Image Gallery
Hover over each image below to view it in larger size with a description. Make sure you have scrolled the image you hover on to the top of the page.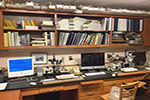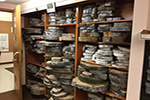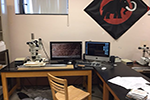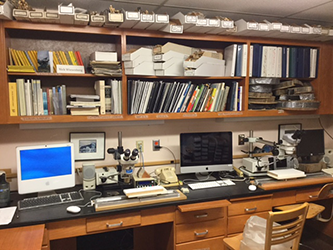 Original Lab – This was the first lab space designated for dendrochronological studies. The two measuring stations are equipped with Apple computers, Velmex measuring systems (.001 mm accuracy), and Nikon microscopes. This area has become the storage area for some logs, relevant publications, and previous field notes.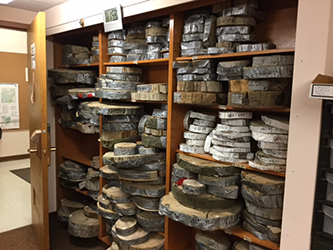 Sample Storage – The other half of the original lab serves as more of a storage facility for processed samples, but is also complete with another measuring station (not pictured).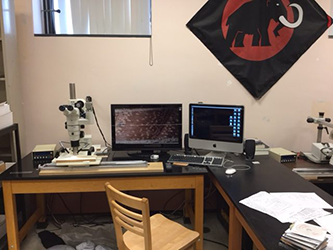 Lab Annex – The annexed X-Ray lab has three measuring stations, one of which is pictured above. This lab is also equipped with two 27″ televisions to project images of tree rings from microscopes during the measuring process. One station is also equipped for Blue Intensity (BI) measurements.
The Saw Room – "The Saw room," as it has become to be known, is home to a band saw, 2 belt sanders, air compressor, dust collector, work bench, mounting supplies (mounts, wood glue, masking tape) and hand sanding materials. The saw room also includes a rock saw used by the entire Geology department.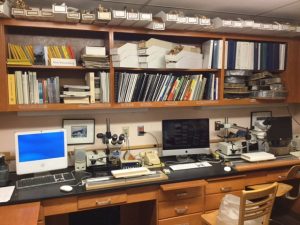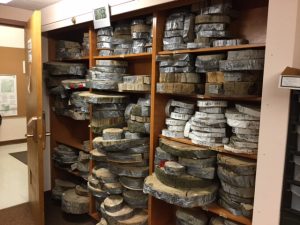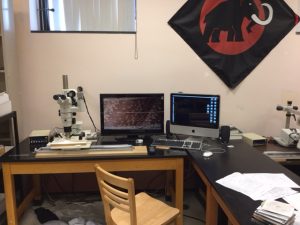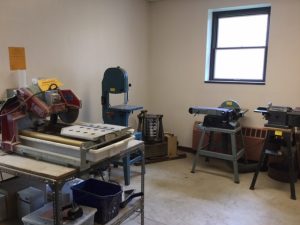 Key people
Dr. Greg Wiles, Director
Tel: 330-263-2298; Fax: 330-263-2249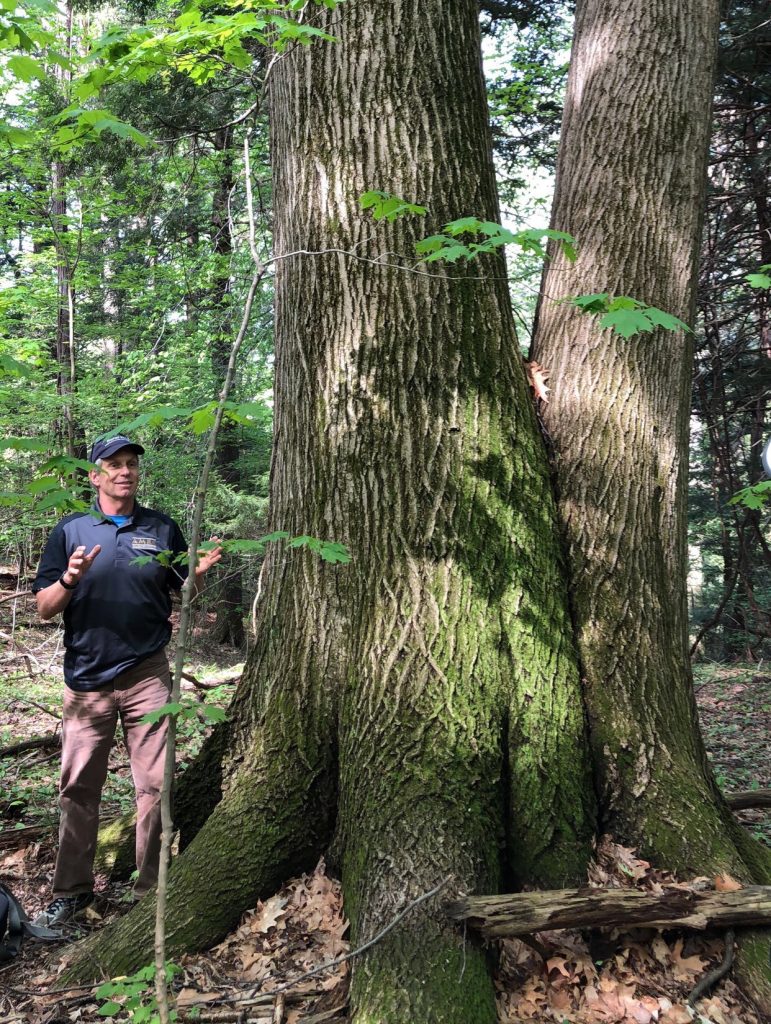 B.A. Beloit College ('84)
M.S. SUNY-Binghamton ('88)
Ph.D. University at Buffalo ('92)
Dr. Wiles is the Ross K. Shoolroy Chair of Natural Resources and professor of Earth Sciences at The College of Wooster. He primarily researches glacial geology and paleoclimatology, working in Alaska during the summer months as well as in the Quaternary geology (last 1.6 million years) of Ohio. Dr. Wiles also teaches the Geomorphology, Climate Change, and Environmental Geology courses at the College.

He began studying climate change using tree-rings and glaciers as a doctoral fellow at the University of Buffalo. After earning his Ph.D., he won a post-doctoral fellowship at the Lamont-Doherty Earth Observatory of Columbia University. Dr. Wiles has researched tree rings and glaciers all over the world, traveling to Antartica, Madagascar, and the Northwest Territories of Canada.
Nick Wiesenberg, Lab Technician
nwiesenberg@wooster.edu
(330) 263-2445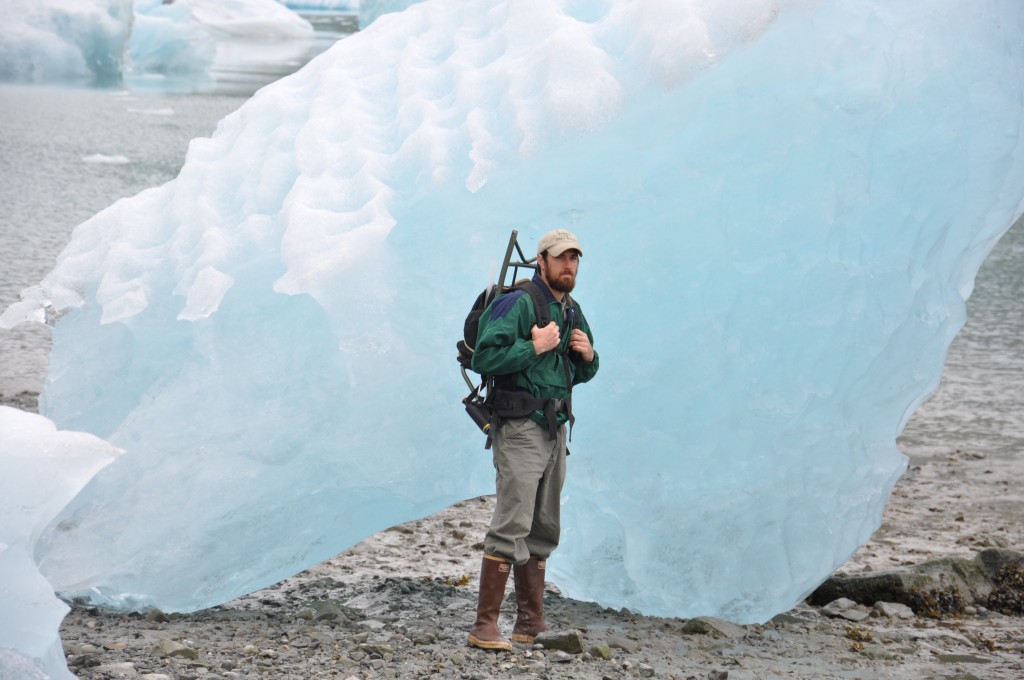 In addition to serving as the Lab Technician for the Earth Sciences Department since 2010, Nick works with Dr. Dan Lawson of the Cold Regions Research and Engineering Laboratory (CRREL) to date both living trees and subfossil wood from Alaska. He also works on dating historic structures throughout Ohio with the CoW Tree Ring Lab. In addition to preparing many of the samples that have been used in our research, he  often travels with Dr. Wiles and students to field sites.
Students
Students who have conducted research with the Tree Ring Lab include Geology majors, Environmental Geoscience majors, as well as students from other fields.
Class of 2019
Josh Charlton
Victoria Race
Juwan Shabazz
Class of 2020
Emily Randall
Alexis Lanier
Class of 2021
Kendra Devereux
Claire Cerne
Julia Pearson
Class of 2022
Mazvita Chikomo
Srushti Chaudhari
Class of 2023
Alumni
Related pages
Check out our brochure!