Top image: Kaitlin Starr '16 at Columbia Glacier in 2014
The College of Wooster Tree Ring Lab's research in Alaska has focused on five sites: Glacier Bay, the glaciers at Wrangell Mountain, College Fjord, Columbia Glacier, Land Lobe Glacier, and Lake Clark National Park & Reserve. Projects in these areas span from 1979 to the present.
---
Navigation
---
College Fjord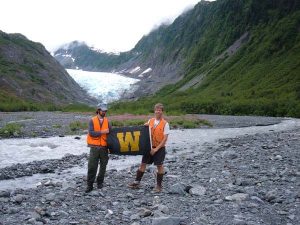 Two seasons were spent in College Fjord – the first in 1997 was a reconnaisance trip with Dr. Tom Lowell of the University of Cincinnati to investigate the region's potential as a source of tree rings to reconstruct past glacial changes.

Another 2005 trip was partially funded by a National Geographic grant to Drs. João Santos (then at Oklahoma State University), Lucio Cunha and A.M. Rochette Cordeiro at the Centro de Estudos Geograficos de Universidade de Coimbra, Portugal. Wooster student Peter Johnson used aspects of this work as his senior Independent Study. The expedition was covered in the Potuguese edition of The National Geographic. Results of the 2005 trip were also presented at the 2006 GSA North-Central section conference — read the abstract here.
Columbia Glacier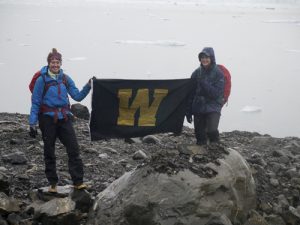 Research trips have been made to Columbia Glacier in 2001, 2005, and in 2014. Some of the projects resulting from research at Columbia Glacier include Kaitlin Starr '16 and Maddie Happ '16's study of glacial retreat in the Prince William Sound. Starr and Happ compared data previous Wooster students had collected in 2001 and 2005 to their own and found that the glacier had retreated almost seven kilometers. Read more about their discovery, and read the abstract of the resulting 2016 paper published in Geology.

Previous Independent Study research at Columbia Glacier includes an extension of the area's glacial stratigraphy record in the Late Holocene by Matthew Beckwith-Laube '04 and dendroclimatology projects by Aaron Shear '01.
Glacier Bay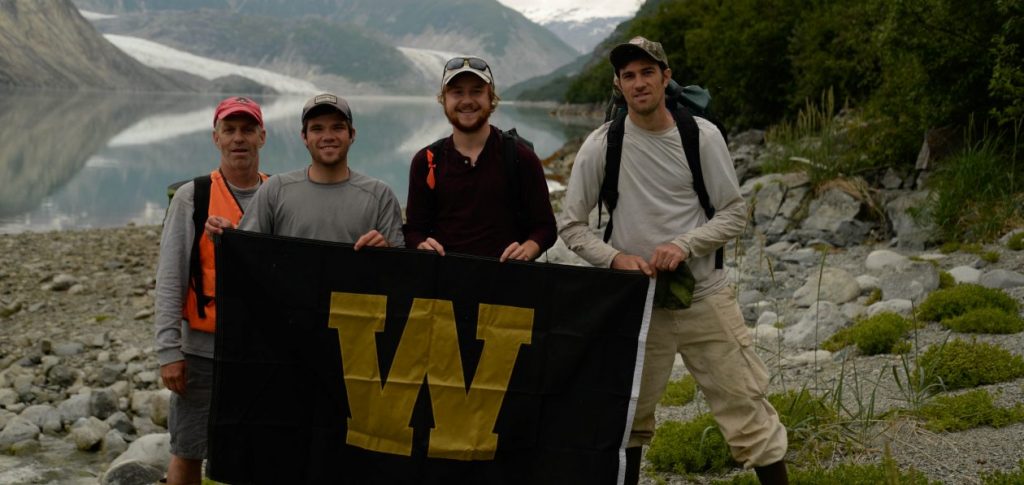 Our ongoing research goal at Glacier Bay — particularly in Glacier Bay National Park and Preserve — is to reconstruct the glacial and climate history for the region over the past 10,000 years.
Glacier Bay was visited in 2016 by students Jeff Gunderson and Andrew Wayrynen '17. Jeff used tree rings from this trip as a proxy for glacier mass balance — the difference between the mass the glacier gained and the mass lost to melting or sublimation — at several glaciers. In particular, he examined using blue intensity to reconstruct glacier mass balance for years that were decades before observed records began.  Andrew studied the relationship between preserved Tlingit stories and glacial climate change for his Independent Study project, part of a double major in Geology and English. Read an abstract of Andrew's earlier work at the 2016 GSA conference relating the works of naturalist and author John Muir to glacial history.
Previous research projects at Glacier Bay were also conducted in 2013, 2012, 2011, 2010, 2009, 2007, and 2006. Read some of the blog posts from these earlier projects, such as this one by Andy Nash '14 or another by Abby VanLeuven '14 from a 2013 trip to Wachusett Inlet. These projects were the result of collaboration with Dr. Dan Lawson of the U.S. Army's Cold Regions Research Environmental Laboratory (CRREL) in Hanover, NH, and the National Park Service. Other student and faculty research here has also been supported by the National Geographic Society, the National Park Service, and the Keck Geology Consortium.
Lake Clark National Park and Reserve
In 2003, two Wooster Geology students, Nick Young and Will Driscoll, traveled with Dr. Wiles to Lake Clark. Nick (now an assistant research professor at Lamont-Doherty Earth Observatory) worked on a project dating the First Millennium AD advance of Columbia Glacier. Will (now a professor of Ecology, Evolution, and Behavior at the University of Minnesota, St. Paul) published a paper in Geophysical Research Letters describing the results of his work on divergence in tree-ring data.
Land Lobe Glacier
Research projects were conducted at Land Lobe Glacier in 2005 and 2001. Anton Heitger '06 wrote his senior independent study on the Little Ice Age history of Land Lobe Glacier.
Wrangell Mountain glaciers
Projects were conducted at the glaciers at Wrangell Mountain in 1998 and 1999. The purpose of this work was to reconstruct the late Holocene glacial history for the region using dendrochronology, lichenometry and radiocarbon analysis. Based on the records from nine glaciers in the area, we have been able to recognize four intervals of late Holocene glacier advance.
Sarah Skelly '99 and R. McAllister '00 conducted their independent study projects at Wrangell Mountain.
Other links
Related pages