Top image: A tapered bark strip scar on an Alaska Yellow Cedar tree. This is a scar that commonly results from the use of stone tools on the tree's bark by Tlingit peoples during the Little Ice Age, a time of glacial advance associated with cooling in some parts of the world. The Little Ice Age was immediately prior to the warming caused by the Industrial Revolution.
One of our recent projects is the study of Alaska Yellow Cedar. The tree species, common in southeast Alaska and the western coast of Canada, has been dying in concentrated areas in the region over the past two centuries. As this introduction from the U.S. Forest Service explains, the mechanism many scientists believe is driving the decline in yellow cedar is the decrease in snowfall due to modern climate change.
Yellow cedar is sensitive to the temperature of soil due to its relatively shallow roots. Snow acts as a thermal buffer, keeping soil temperatures relatively stable even if there are freezing events with low temperatures that would normally damage yellow cedar trees. However, declining snowfall in Alaska in recent years lets colder temperatures penetrate farther into the soil, allowing it to damage the yellow cedar's roots.
These freezing events occur on shorter timescales than the longer-term, average temperature increases. Thus, warming temperatures due to recent climate change do not remove the presence of freezing events, particularly in the spring, that can be fatal to yellow cedar.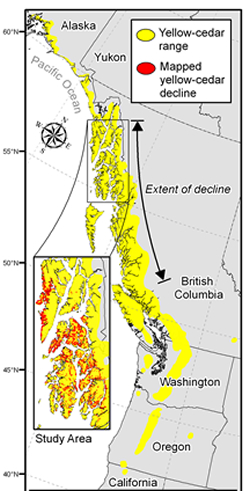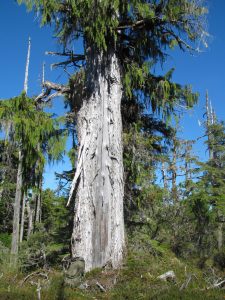 For more information on yellow cedar, view the following links below.
References cited and further resources
COW Tree Ring Lab publications on yellow-cedar decline
(Italics indicate COW undergraduates)
The COW Tree Ring Lab's work on yellow-cedar decline has focused on two locations in Alaska — Pleasant Island and Excursion Ridge, both located in Icy Strait.
McGrath, S., Luna, E.T., Wiesenberg, N., and Wiles, G., 2016, Examining the effects of a changing climate on Alaska Yellow Cedar: Analyses of ring width and blue intensity tree ring chronologies: Geological Society of America 2016 Annual Meeting, Denver, CO, Abstracts (Read abstract)
Wiles, G.C., Mennett, C., Jarvis, S.K.,,Lawson, D., Wiesenberg, N., and D'Arrigo, R, 2012, Decline in Alaskan Yellow-Cedar: tree-ring investigations into climatic responses and possible causes: Glacier Bay, Alaska: Canadian Journal of Forest Research, 42: 1–6 (2012) doi:10.1139/X2012-028. (Read article)(View associated data on NOAA FTP)
Other resources